A word on Cupping marks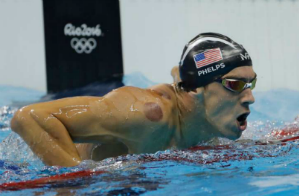 The most common misunderstanding regarding one of the most powerful and beneficial after effects of Cupping, is the marks that sometimes result.
When injuries occur deep in the muscle, bleeding often occurs causing deep bruises. There will also be edema in the area involving the coagulation of sticky proteins. The combining presence of these elements usually results in stagnation of circulation to the area - resulting in pain, dysfunction, and chronic conditions.
The vacuum formed by Cupping draws up the old non-circulating stagnant blood and sticky fluids from the area, bringing them up to the surface and away from the injury so that healthy free circulation can be restored to the affected area, thus creating space for oxygen, living cells and nutrients for faster recovery.
Where there is dead, static blood, lymph, cellular debris, pathogenic factors, and toxins present in the body, Cupping can leave marks which indicates that the stagnation or disease has been moved from the deeper tissue layers to the surface.
In many countries - this is a non-issue, they've experienced themselves the amazing detoxifying effects suction therapy can provide. But in some industrialized countries, where Allopathic Medicine still over-shadows more holistic, natural approaches, these surface discolorations are misinterpreted as damage rather the result of debilitating agents being drawn to the surface. Westerners also live in an image conscience society that also has a heightened sensitivity to domestic abuse... so, without sufficient understanding, some people are unnerved upon seeing this important after effect.
Once people understand what these marks are, and feel the results - the concerns disappear.
The color and pattern of the marks depend on the level of stagnation in the area, and range from a bright red to dark purple, usually lasting 3 days to a week - sometimes longer if the person is very sick or sedentary. If there is no stagnation present, there will be only a pink marking which disappears in a few minutes to a couple of hours.
If the person receiving treatment sweats a lot on a daily basis - no marks may ever occur.
People who live/work/play in toxic environments (or were exposed to a heavy dose of toxic material) may consistently mark.
Sites where there is old trauma or injury may require multiple Cupping treatments to remove all stagnation. You will find in follow up treatments the marks will be progressively lighter as the pathogens are systemically removed from the body.



Those unfamiliar to Cupping Therapy, believe the Cupping marks to be bruises. In North American society bruising is considered an injury.

Bruising is caused by impact trauma with compressed breakage of capillaries and a reactionary rush of fluids to the damaged location from the tissue injury. There is no compression in correctly performed suction cup therapy. Although it is quite common during Stationary Dry Cupping (left static for 5 - 20 minutes - see below) to achieve dramatic 'marks' or 'discolorations', the less aggressive action of moving the cups, minimizes the intensity and duration of the discolorations.
Often, when a condition exists within deeper structures where sufficient pathologic factors and stagnant fluids (toxins, blood and lymph) are dredged up during treatment, discoloration will appear on the epidermis. As treatments cumulate and the release of stagnation and buildup has been released, dispursed and drained – (sometimes quickly as the 2nd treatment) no discoloration is likely to occur at all - even though each time the cupping may have been focused on the same area, for the same duration, and with the same amount of suction.

This action is the result of having internal unwanted toxins systemically purged.
But, regardless of the obvious therapeutic value of drawing these agents out of the body, it is vitally important to educate your clients to the nature of the discoloration and self-care. Provide them a thorough understanding of the marks to assist them in relaying accurate information to others who might see it. If there is concern about leaving discolorations on clients, and/or the process of educating these clients (including a release form) is unwanted – then suction cup therapy is not for you.
And, there are simply people who will not want such marks - no matter how potent the health benefits. And, being uneducated about the marks (like the "significant other", and yes, even other health practitioners), upon seeing it on the skin can perceive it as bruising and become very concerned.
It is the responsibility of the Practitioner to carefully screen, educate and support their clients in this matter.
Prior to any suction cup therapy, a release form should be signed for your records, and appropriate take home documentation provided to the client for their information.
We Welcome Same-Day Appointments and Walk-In Customers.
The newest cure-all may be an ancient one: simple touch. The Chinese have been using massage for all kinds of medical conditions for centuries. Now, Western research is confirming that massage isn't just for muscle pain. Massage, it turns out, may boost immunity and help people with a range of conditions from premenstrual syndrome to high blood pressure. It also seems to help soothe pain from arthritis, burns and even surgery. Here are five surprising facts about massage from the research findings that you can put to use:
1. Pick Your Spot: You don't have to massage the part of the body that hurts most. If you're shy about letting a friend touch your aching lower back, for instance, she could help by massaging your shoulders instead. This is because massage creates chemical changes that reduce pain and stress throughout the body. One way it does this is by reducing a brain chemical called substance P that is related to pain. In a study, for example, individuals with a form of muscle pain called fibromyalgia showed less substance P in their saliva (and they reported reduced pain) after a month of twice-weekly massages.
2. De-Stress, Stay Healthy. Massage may boost immunity. Several studies have measured the stress hormone called cortisol in subjects' saliva before and after massage sessions, and found dramatic decreases. Cortisol, which is produced when you are stressed, kills cells important for immunity, so when massage reduces your stress levels and hence the cortisol in your body, it may help you avoid getting a cold or another illness while under stress.
3. Blood Pressure Benefits: Massage reduces hypertension, suggests a good deal of research. This may be because it stimulates pressure receptors that prompt action from the vagus nerve, one of the nerves that emerges from the brain. The vagus nerve regulates blood pressure, as well as other functions. In a 2005 study at the University of South Florida, hypertension patients who received 10 massages of 10 minutes each over three weeks showed significant improvements in blood pressure compared to a control group who simply rested in the same environment without any massage.
4. Technique Tactics: There's little evidence to support one kind of massage over another, says Field, so don't worry about whether your therapist is schooled in Shiatsu, Swedish or some other technique. The key is pressure firm enough to make a temporary indentation in the skin. If you try massage with a partner, use massage oil, which you can find in a health-food store or pharmacist, but test a little on your skin first to make sure you are not allergic.
5. Self Help. You can massage yourself. Although you don't have to massage the part of the body that hurts to relieve pain, targeting that area does tend to help more. One example is massaging the arms. If you're in danger of developing inflamed nerves in your hands or arms from repetitive movements (like typing on a keyboard, or even gripping a steering wheel for hours at a time) try massaging for 15 minutes your arms a day. Stroke from the wrist to the elbow and back down on both sides of the forehand.

The Daily Beast

back

Here is information you can use to help you decide what types of massage will work best for you.
Which Massage Styles Are Best?
You may have noticed that different massage styles are popular at different times. And you may have wondered whether each was just part of a passing fad or the latest, greatest massage technique? Even more important is how can you tell whether the latest style will actually help you?
Styles used in massage therapy range from long, smooth strokes to short, percussive strokes. Some massage therapists use oils and lotions; others do not. Most massage therapists have clients unclothe for a massage, but some do not. A massage can last anywhere from 5 minutes to 2 hours.
Before you can decide which massage style is best for you, you need to ask yourself a question. Do you simply want a massage for relaxation and stress control? Or do you need symptom relief or help with a certain health condition? Before booking a massage, let the therapist know what you're looking for and ask which style the therapist uses. Many use more than one style. Or the therapist may customize your massage, depending on your age, condition, or any special needs or goals you have.
What follows is a list of some of the more popular massage therapy styles. The first four are especially popular.
back


Swedish Massage / Relaxation Massage

The most common type of massage is Swedish massage therapy. It involves soft, long, kneading strokes, as well as light, rhythmic, tapping strokes, on topmost layers of muscles. This is also combined with movement of the joints. By relieving muscle tension, Swedish therapy can be both relaxing and energizing. And it may even help after an injury.
The four common strokes of Swedish massage are:
Effleurage: a smooth, gliding stroke used to relax soft tissue.
Petrissage: the squeezing, rolling, or kneading that follows effleurage.
Friction: deep, circular movements that cause layers of tissue to rub against each other, helping to increase blood flow and break down scar tissue.
Tapotement: a short, alternating tap done with cupped hands, fingers, or the edge of the hand.

back

Neuromuscular Therapy Massage (currently not available at A.O.M.)

Neuromuscular therapy is a form of soft tissue manipulation that aims to treat underlying causes of chronic pain involving the muscular and nervous systems. This medically oriented form of massage addresses trigger points (tender muscles points), circulation, nerve compression, postural issues, and biomechanical problems that can be caused by repetitive movement injuries.
back

Deep Tissue Massage
Deep tissue massage is best for giving attention to certain painful, stiff "trouble spots" in your body. The massage therapist uses slow, deliberate strokes that focus pressure on layers of muscles, tendons, or other tissues deep under your skin. Though less rhythmic than other types of massage, deep tissue massage can be quite therapeutic -- relieving chronic patterns of tension and helping with muscle injuries, such as back sprain.
back

Sports Massage
Developed to help with muscle systems used for a particular sport, sports massage uses a variety of approaches to help athletes in training -- before, during, or after sports events. You might use it to promote flexibility and help prevent injuries. Or, it may help muscle strains, aiding healing after a sports injury.
back


Chair Massage
Chair Massage is done in an ergonomically designed portable chair. Onsite, chair massages are done while you're seated fully clothed. Chair Massage focuses on the head, ,neck shoulders, back, arms and hands.
A robotic massage chair is a chair that contains internal electronic motors and gears designed to massage the person sitting in them. Most robotic massage chairs have some form of controller to vary the type, location, or intensity of massage. Massaging chairs most frequently resemble recliners.
back


Shiatsu Massage (currently not available at A.O.M.) In Japanese, shiatsu means "finger pressure." For shiatsu massage, the therapist uses varied, rhythmic pressure on certain precise points of the body. These points are called acupressure points, and they are believed to be important for the flow of the body's vital energy, called chi. Proponents say shiatsu massage can help relieve blockages at these acupressure points.
Thai Massage (currently not available at A.O.M.)

During a Thai massage, the therapist uses his or her body to move the client into a variety of positions. This type of massage includes compression of muscles, mobilization of joints, and acupressure.
back


Hot Stone Massage
Before you arrive, the massage therapist sanitizes the stones and heats them in a purpose-built Stone Heater which is filled with water. The water is typically heated to 50-53 degrees Celsius (122-127 degrees Fahrenheit). The stones themselves are usually basalt, a black volcanic rock that absorbs and retains heat well, and have been smoothed by natural forces in the river or sea.
For this kind of massage, the therapist places warmed stones on certain areas of the body, such as acupressure points. The stones may be used as massage tools or be temporarily left in place. Used along with other massage techniques, hot stones can be quite soothing and relaxing as they transmit heat deep into the body.

You usually start face down, with the therapist working on your back. First, the therapist warms up the body with traditional Swedish massage, then massages you while holding a heated stone. As the stone cools, the therapist replaces it with another. The therapist uses many stones of various shapes and sizes -- big ones on the big muscles, smaller ones on smaller muscles.

The therapist might also leave heated stones in specific points along your spine, in the palms of your hand, on your belly, or even between your toes to improve the flow of energy in your body.

Be sure to speak up if the stones are too warm or the pressure too intense. And you can always ask them to stop using the stones if you don't like how it feels.
back


Cold Stone Massage
Certain styles of stone massage also incorporate chilled stones into the routine. These stones are usually marble, and are placed into a bowl of iced water before use. A competent stone massage therapist will know when it is best to use hot stones and when it is best to use cold stones
back
Reflexology / Foot Massage

Reflexology uses hand, thumb, and finger techniques to stimulate certain areas of the feet. These areas are believed to correspond to different parts of the body. The massage, then, is expected to promote health and well-being.

A natural healing art based on the principle that there are reflexes in the feet, hands and ears and their referral areas within zone related areas, which correspond to every part, gland and organ of the body. Through application of pressure on these reflexes without the use of tools, cremes or lotions, the feet being the primary area of application, reflexology relieves tension, improves circulation and helps promote the natural function of the related areas of the body.

Reflexologists posit that the blockage of an energy field, invisible life force, or Qi, can prevent healing. Another tenet of reflexology is the belief that practitioners can relieve stress and pain in other parts of the body through the manipulation of the feet. One claimed explanation is that the pressure received in the feet may send signals that 'balance' the nervous system or release chemicals such as endorphins that reduce stress and pain. These hypotheses are rejected by the general medical community, who cite a lack of scientific evidence and the well-tested germ theory of disease.

Reflexology's claim to manipulate energy (Qi) has been highly controversial, as there is no scientific evidence for the existence of life energy (Qi), 'energy balance', 'crystalline structures,' or 'pathways' in the body.
back


Pregnancy Massage
During pregnancy, your body goes through major changes. Pregnancy massage can help with these changes by reducing stress, decreasing arm and leg swelling, and relieving muscle and joint pain. Massage may be particularly helpful during a time when medication and other medical options may be more limited. Using specially designed massage pillows, the massage therapist will help get you into a comfortable position for this type of massage.
back

What Are the Health Benefits of Massage?
Many types of massage offer benefits beyond simple relaxation. Here are just a few of the health problems that may benefit from massage. Ask your doctor before using massage for any health condition, though.
Back pain. More than one study has shown the effectiveness of massage therapy for back pain. In fact, one 2003 study showed it worked better than acupuncture or spinal modification for persistent low back pain -- reducing the need for painkillers by 36%.
Headache. Another type of pain -- headache -- also responds to massage therapy, as shown by more than one study. Massage therapy can reduce the number of migraines a person has and also improve sleep.
Osteoarthritis. In the first clinical trial looking at the effectiveness of Swedish massage for knee osteoarthritis, participants who received a one-hour massage either one or two times a week had improvements in pain, stiffness, and function. The control group had no such change.
Cancer. Used as a complement to traditional, Western medicine, massage can promote relaxation and reduce cancer symptoms or side effects of treatment. It may help reduce pain, swelling, fatigue, nausea, or depression, for example, or improve the function of your immune system.
Anxiety.
A review of more than 12 studies shows that massage helps relieve depression and anxiety. It lowered levels of cortisol by up to 50%. And massage increased levels of neurotransmitters that help reduce depression.
back
Couples Massage
Two trained massage therapists will work together to perform an extremely therapeutic relaxing massage on a couple in the couple's room.
While you are waiting, your spa attendant will present you with a selection of natural soy candles. You and your partner will be asked to choose a candle to burn during your treatment. The candle will be yours to take home after the treatment.
Your therapists will escort you to our couple's room where we will have two massage tables set up right next to each other for your massage. Your therapists will take a few moments to explain the treatment, answer any questions you may have, and light your candle, filling the room with a natural tropical scent. The therapists will then leave the room so that you can remove your clothes in private. Your therapists will reenter, make sure you are comfortable, and begin your treatment by applying oil. Your arms and legs will be adjusted, and your massages will begin. As you put yourselves in our hands, allowing your minds to be free to think about each other.
back


Reiki (pronounced Ray-Key) is a Japanese name consisting of 2 words Rei and Ki meaning spiritually guided life energy, an energy which animates us all and is found all around us. Reiki helps to harmonize body, mind and spirit for yourself
or anyone you want to help.
back